Some of you comic book heads remember the days when Marvel comics reigned supreme before all the X Men movies. In the letter's section of any Marvel comic, several fans would end their letters with "make mine marvel." Before they would write make mine marvel they would throw a punchline before that. It would go something like this:
"Until Wolverine cries, make mine marvel..."
or
"Until Dr. Strange smokes weed, make mine marvel..."
My brother from another mother Billie Wheelz and I still throw punch lines such as these all the time. Call it a geek moment but only the true Marvel heads (O.M.'s, right?) know about this. However Marvel has done some stuff that made me think twice about supporting them. To be honest, they fell off for about a decade. Yet when I was a die hard fan, they did some ill things. Check the method.
1.The marriage of the Vision and Scarlet Witch – I think Stan Lee and Jack Kirby were smoking some crack with this one (I am sure when Lee's biography comes out there will be several instances of drug binges in there). How the heck is a cyborg that walks through walls going to get with a mutant? I understand that Marvel has explained the children part through the Scarlet Witch's powers but sex? Come on man. That is borderline perv.
2.Luke Cage in his old threads – A yellow top and tight black pants? WTF, a pimp? In the late 90's, someone at Marvel decided this was wack and now has Luke Cage wearing regular street clothes. Whew! I know much if happened because of the stereotype folks had in the 70's but even Black Lightning in DC comics was played like that.
3.Modok – WTF? Then he came to rule over the Kree Empire? WTF? He was just too weird. Can't wait until the History of Marvel comics comes out. I am sure there will be plenty of Bobby Brown and Whitney Houston moments.
4.Storm – I never really got close to her character because she had white hair and blue eyes. This was NEVER explained. So a sister had to have some recessive trait in there to be considered a goddess. I will admit that the Storm graphic novel by Eric Jerome Dickey is dope on so many levels, I got it for T'Challa instead of Storm.
5.Wolverine – the reason why I was not big on Wolverine was because as tough as he claimed to be, he always manages to get his ass handed to him. He talks so much junk it's ridiculous. It actually gets on my nerves. If it wasn't for his healing factor, dude would have been tossed a long time ago.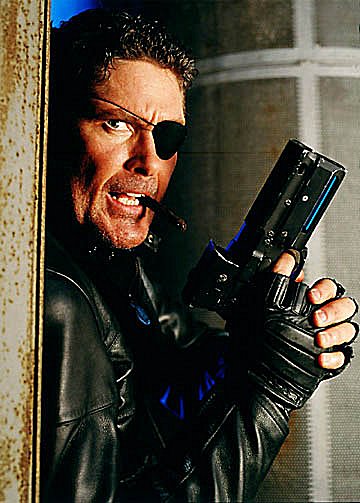 6.Nick Fury – die mofo, die! Dude does not have the Super Soldier Serum like Captain America yet he has not aged a day since WWII. Okay they throw a little white on the edges. He has no super powers but still lives. Come on man, kill him off, please. BTW, did anyone see Michael Hasselhoff play Nick Fury? It is too funny. (the name is so dope though).
7.Oh about S.H.I.E.L.D. -- what's up with the tights? I really can't take a federal agency seriously if they are all wearing tights. I have grown to understand why comic book artists draw super heroes in tights, but federal agents?
8.Did anyone collect the Dazzler comic book? Let me catch someone who did so I can joke them. I can't picture the party now....
9.As much as I love Jack Kirby's and John Byrne's the Fantastic Four (remember when the Thing left and the She Hulk was a member?), I cannot stand the Silver Surfer. I just can't take a cat who flies around on a surf board seriously. Sorry dude. Another crack binge in the office.
Until Nick Fury lives another ten minutes, Make Mine Marvel.