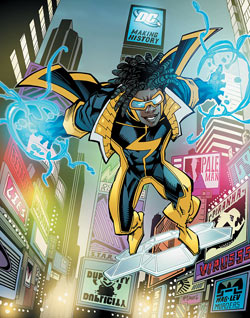 Written by Scott McDaniel & John Rozum
Pencilled by Jonathan Glapion and Le Beau Underwood
To be honest, I didn't think Static Shock would make the cut for DC's 52 line. It actually came out the first week and somehow I missed it. I don't think it sold well since I still see copies at the comic shops I frequent. I have to give DC props for this. They have several heroes of color in their line up. With Static Shock, they have injected two Milestone characters into the mix: Hardware and Static Shock.
I think that's real slick right there. I enjoyed Hardware during the Milestone days. I didn't see that coming as well.
Virgil Hawkins and his family move to NYC. While there, Hawkins works at S.T.A.R. Labs under the tutelage of Hardware. He is given access to new costumes, technology, and surveillance equipment to continue his fight against crime.
While the artwork is great, I found the story to be muddled. The reader is introduced to too many characters. In the first issue to much is just crammed in. While it is not poorly written, I find that more could have been done with less.
I look forward to seeing more Static Shock and seeing what DC does with it. I hope we see crossovers with other DC superheroes. Other than that, it's the usual Static Shock that his fans are used to. If that's what you want, then I think you should pick up this issue.